Hi everyone!
So my sisters bought me this set of double-ended brushes from Sonia Kashuk for my birthday a while ago, and I've been recommending them to friends ever since. I figured it's probably time I told the rest of the world too! 🙂

The set I have is called the Sonia Kashuk Double Duty Brush Set, which is currently retailing at $23.79 on the Target US website. They look like this (pic taken from the website as well):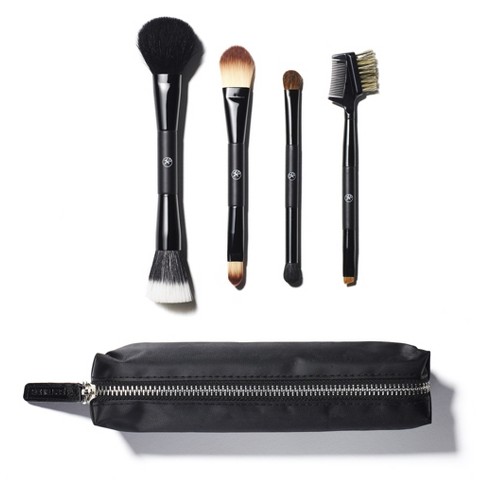 The first brush has a blush end (top) and a stippling brush (bottom). The second one has a foundation end on top and a concealer end on the bottom. The third brush has an eyeshadow crease end at the top, and the bottom end is an eyeshadow blending brush. The fourth brush has an eyebrow comb on top and an angled liner brush on the bottom end. The set also includes a case.
I actually love these brushes. They are so soft! They apply everything so smoothly and they hold makeup fairly well so doing your makeup isn't messy. I also just love the look of them—they look so classy and expensive to me!!
My favourites are definitely the stippling brush, concealer end, and angled liner brush. I use the stippling brush every day to apply my favourite mineral foundation (The Body Shop). While I was fairly happy before using my e.l.f. all-over face brush for this, the Sonia Kashuk brush just blends everything so flawlessly. You literally can't even tell that I'm wearing makeup when I use the SK brush.
The concealer brush is another fave because it holds product so well. You only really need a tiny bit because the brush controls it really well. It makes it really easy to blend and pat concealer well for a flawless finish!
The angled liner brush is amazing for when you want a softer eyeliner look. I often get this brush a little damp (not wet!) and then stick it in some black eyeshadow and draw a line that way. It's softer than pencil or liquid liner and significantly easier to blend, but you can get a really precise line using this brush too!
The only bad thing I have to say about them is that I don't know how to store them properly. Because they are double ended, they don't work with the rest of my brushes, which I store standing up in a glass jar on my dresser (so pretty!). I can't do that with these because I don't want to ruin the ends, so I just have them in a drawer, which sucks because they're so classy looking and I'd love to showcase them on my dresser. 🙁
All in all, I love these brushes so so so much. They're amazing for everything from application to precise lines to blending. They truly give a flawless finish and they will really upgrade your makeup game!
Also: shoutout to my sisters for their awesome find and introducing me to this brand! I love having sisters that love makeup as much as I do! <3
With love,
Holly